Kids rooms with trendy and fun solutions
Kids rooms need to grow with them- easily adapting to their taste, style and needs. This will ensure they have the right space to play, study and have fun.
Our kids rooms are thought and designed for kids from 4 to 10 years old, making it possible to adapt a room for siblings of different ages. Furniture that grows and adapts with your children!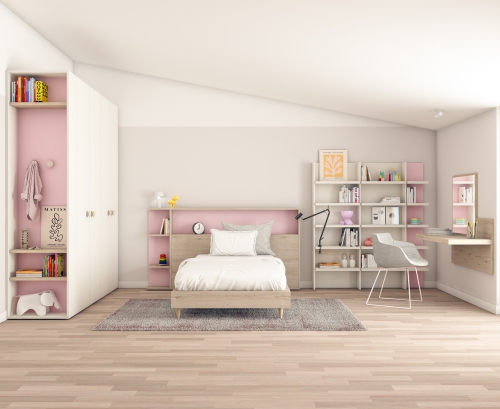 Composition 1 including storage headboard, GOA bed, double-L shelving, hanging desk and wardrobe with open shelving in Nordico, Ivory and Rosa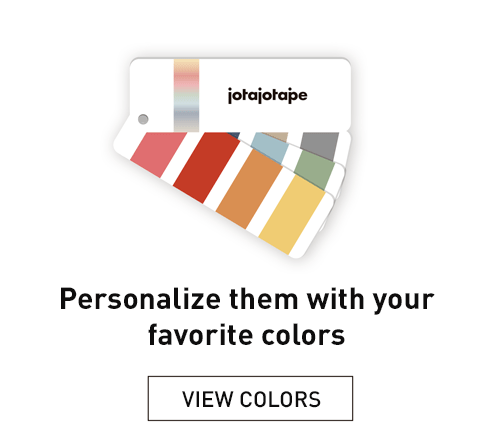 Decoration within a kids room, giving them a personal touch
When designing a kids room, you need to take into account two important things: choosing the best furniture, and decorating it according to the child's likings.
The design of their room will depend on the personality of the child, their taste, their needs, if it's shared between siblings, if they're calm or more active…
With our furniture here at JJP you will always be able to give their room a personal touch of character. Choosing the right colour combination is a great way of doing so.
Placing a bookcase tailored to their height is a fun and personalised way of storage that they can use  whilst painting, playing, reading…
When having children at home, mess is common! Our cubes on wheels are the best solution to make tidying up easy and fun!
Fun and original kids rooms with a unique space for them to play
Kids rooms are always thought of as spaces for children to play, that's why we've created furniture designed with them in mind.
We present to you PUKKA, a collection of kids furniture where you will find:

A rectangular table, that comes in two different sizes and can be joined if there's lots of children at home.
An arched table, if you place four of them together, it forms a circular table segmented in four sections that can be combined in different colours.
A bench, it's the ideal complementary piece of furniture to combine with the rectangular table.
The chair, has a very practical and functional design to ensure full comfort when the kids are seated.
Toy cubes, that can have additional wheels to move them freely around the room.

.
You can adapt different elements depending on the situation: whether your kid is playing alone, with siblings or friends… Combine different pieces of furniture to create a rectangular or circular tables for your children.
Versatile tables for kids where they'll be able to play, paint, read…
On a small table children will be able to play with colours, cars, dolls, puzzles and they'll have a great time.
The Arco table from our PUKKA collection, which is 54 cm in height, is designed with the youngest ones of the house in mind, you can combine it with 2, 3 or 4 elements to allow the table to grow depending on how many children there may be, ensuring comfort and fun.
Complete this kids room with the PUKKA chair. It features a very robust structure that is light-weight to make it easier for the kids to move them around the room.
PUKKA will allow children to play alone or together, creating endless fun-packed adventures.
Kids rooms designed to maintain order and tidiness 
We have a great idea to maintain a kids room organised: the Canopy bed with drawers or canopy. This model allows you to choose a design that adapts best to your home.
Our Canopy bed with drawers is going to help maintain an organised room. This can be complemented with some hanging cubes for children to place their toys in. 
Our Canopy bed has a trendy design that is very functional and comfortable. Ideal for any child's room!
Creating a fun colour combination within a kids room is easy with this furniture collection, as you can choose different colours for the bed, headboard, drawers and cubes.
Having the right wardrobe can be the key to organising a child's room.
We offer wardrobes with one door and drawers.

With two, three and four doors with drawers in the interior.

Wardrobes with empty spaces and wardrobes with shelves and shoe racks.

We also offer wardrobes with sliding doors if space is an issue.
Whatever your child's room needs, we have the furniture to fulfil it!