Walk-in wardrobes, design them to suit YOUR style of living
Have you ever dreamt of having a walk-in wardrobe? We guess the answer is a clear YES. A walk-in wardrobe is a space that guarantees the space you need for your clothes and accessories whilst being neatly organised…
Our NOLIMITS+ catalogue offers wardrobes that will help you create your ideal dressing room adapted to your needs and, most importantly, your space. With a walk-in wardrobe you will have the space you have always wanted for your clothes!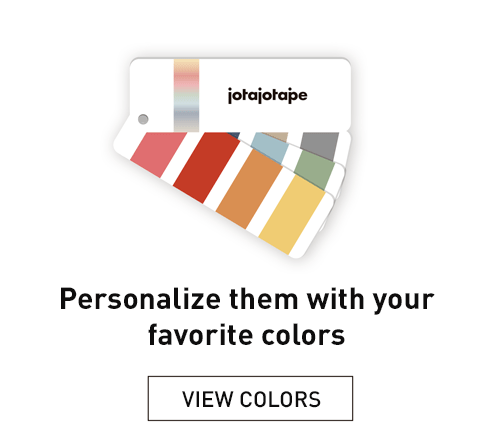 Small walk-in wardrobes that make the most out of your space
A lack of space in your home and wanting to place a walk-in wardrobe shouldn't be a problem. We will ensure that we make your ideal wardrobe to suit and maximise the space you have. If your room is very small and you wish to have a walk-in wardrobe, you will have to carefully plan the  interior of the wardrobe to make sure we're utilising every bit of space.
There are no limits to your creativity and customisation thanks to the endless amounts of colours, designs, combinations and accessories that we offer in our catalogue. Everything is possible with NOLOMITS+!
Walk-in wardrobes with attached mirrors that are vital for our day-to-day
A mirror in the interior of your wardrobe is optional depending on the space where you're planning on placing your wardrobe. We all know that having a mirror near our wardrobe is essential, so we make sure that we can place a mirror near wherever you place your walk-in wardrobe.
Normally our walk-in wardrobes feature open wardrobes (without doors), but if what you need is a mirror, you can choose to have a wardrobe placed in the middle with mirrors inside both doors.
Another option is to place an extractable mirror inside your walk-in wardrobe.
It's important to place a mirror within your walk-in wardrobe. If your space allows it, why not place a puff or seat to match your style.
Made-to-measure walk-in wardrobes that are made to suit YOUR space
"I want a made-to-measure walk-in wardrobe that is also elegant". That is no problem for us. When we create the wardrobe that suits your space we also ensure to tailor every single aspect of design and comfort to you. There are different options to make a custom made walk-in wardrobe. You choose the design and we take care of fitting it to YOUR space. Our made-to-measure walk-in wardrobes come in so many options that it may even make it difficult to choose one, but don't worry, we work WITH you; around your ideas and imagination.
With a made-to-measure walk-in wardrobe you will be able to maximise the space in your room
You may ask yourself, how do I design my walk-in wardrobe? We can plan and adjust your wardrobe interior so it suits your needs.
The most common options are: lots of shelves, lots of hanging bars, drawers for lingerie and socks, a trouser rack… but there are other options that will help to maintain a nice and organised wardrobe.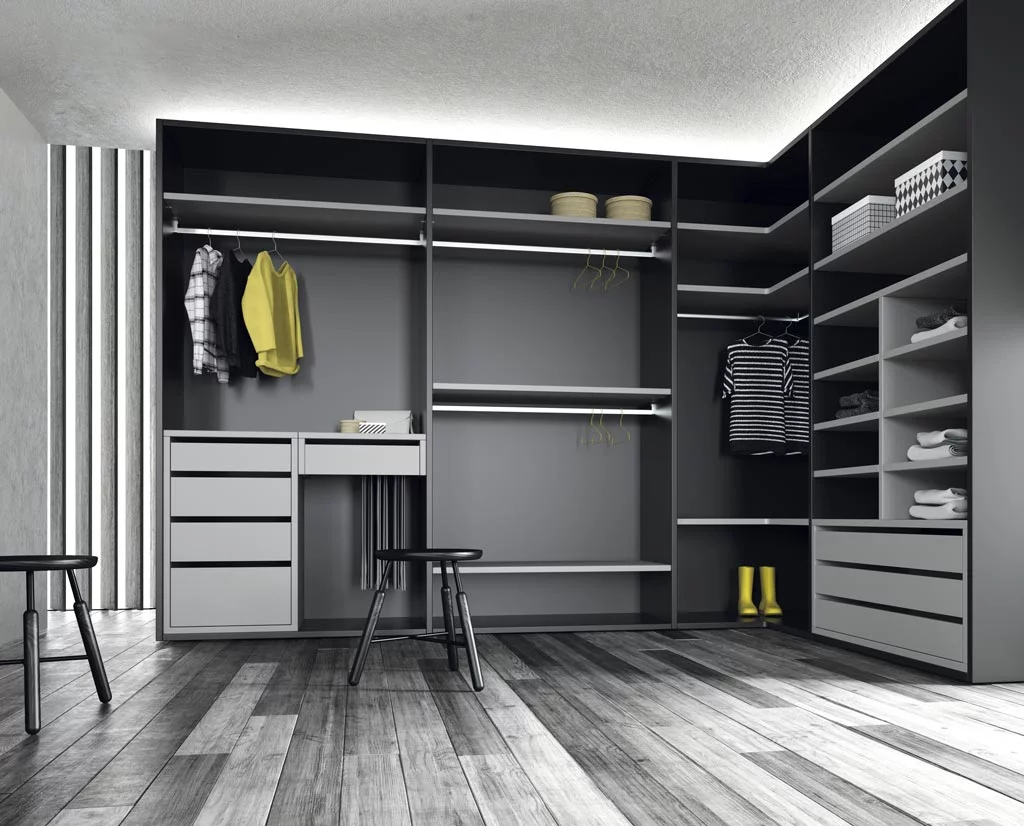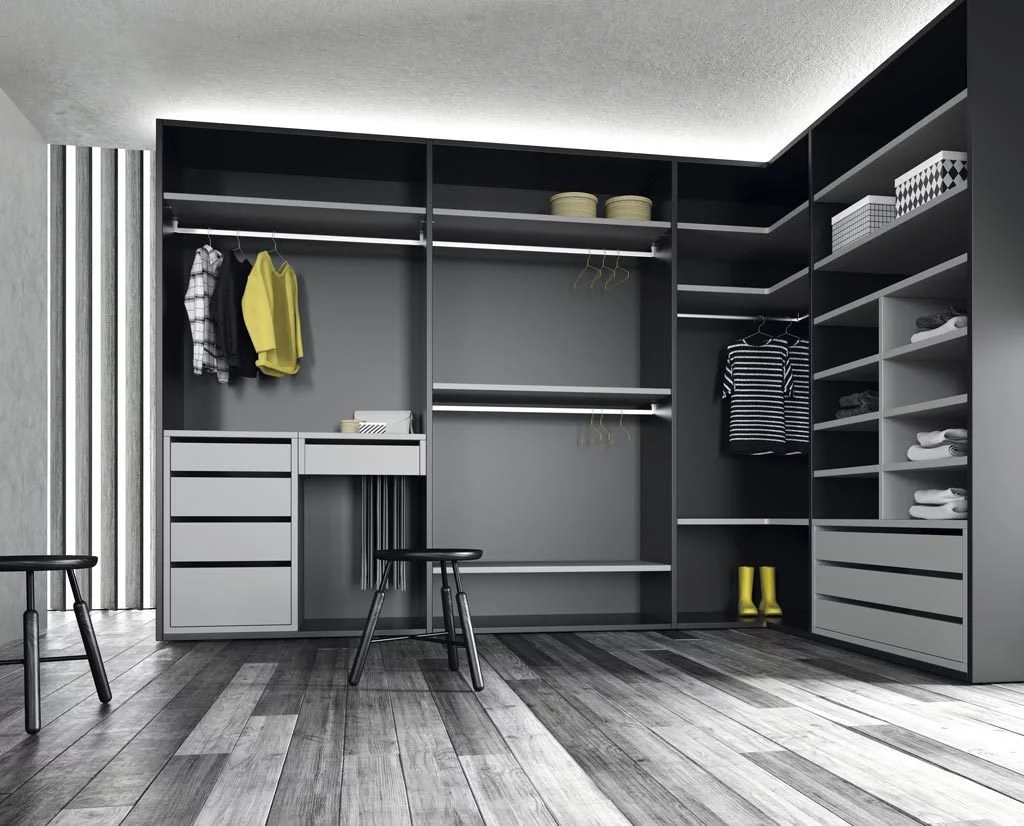 Full freedom of imagination to design the walk-in wardrobe of your dreams