Junior bedrooms, choose what your kids really need
If what you're truly looking for junior bedrooms that are colourful, versatile, personalised, imaginative and 100% functional, you're in  the right place!
In JJP we allow you to create the colour combination you've always wanted. Our furniture adapts as your child grows. Each design can be adjusted to meet your child's needs; it's furniture designed for babies, kids and teenagers.
Junior furniture needs to reflect the character and personality of your child!
 Modern Junior bedrooms where YOU decide the design and the colours
The design of a junior bedroom needs to suit your child's needs. Remember that it's the part of the house where they're going to spend the majority of their time, whether that's sleeping, playing or studying.
Colour choices are fundamental, that's why you will find an endless amount of wood colours in the Infinity 02 catalogue where you can mix and match as you wish.
Colours make furniture much more fun
As children change and grow, it's important to make a good decision when it comes to both style and colour. In the different collections of this catalogue you will find a large array of designs to fit any need.
Having a modern junior room is extremely easy with the Infinity 02 catalogue thanks to the quantity and variety of furniture that there is. Find the design that you need…
Wardrobe, bed, book shelf, bunk-bed… everything is possible in this catalogue
Every single piece of furniture in a junior bedroom is vital as they all serve an important function, from having a good, cosy bed to having a space where you can paint or play.
A great wardrobe so you can have everything nicely organised.

The beds, pull-out beds, wall-beds and bunk-beds allows comfort, especially with a good mattress.

Having a great study space with tables, chairs and other furniture; perfect for homework and play.

A bunk-bed that doesn't take up much space and can be truly original.

Cupboards and shelves that can give a different touch and style to your bedroom.
Fun and functional furniture designed for the younger ones of the house
Furniture designed for sharing a bedroom
When a bedroom needs to be shared between siblings, you always try to choose the best options with the space you have.
There are various practical options if space is an issue in your home:
One option would be our wall-beds, which transforms a bedroom into a space to study, play and sleep.

The other option are our pull-out beds, which provides you with an extra bed.

.
With Infinity 02, you are able to fit different size mattresses to increase the comfort and sleep of your young ones.
Decorated junior bedrooms that reflects character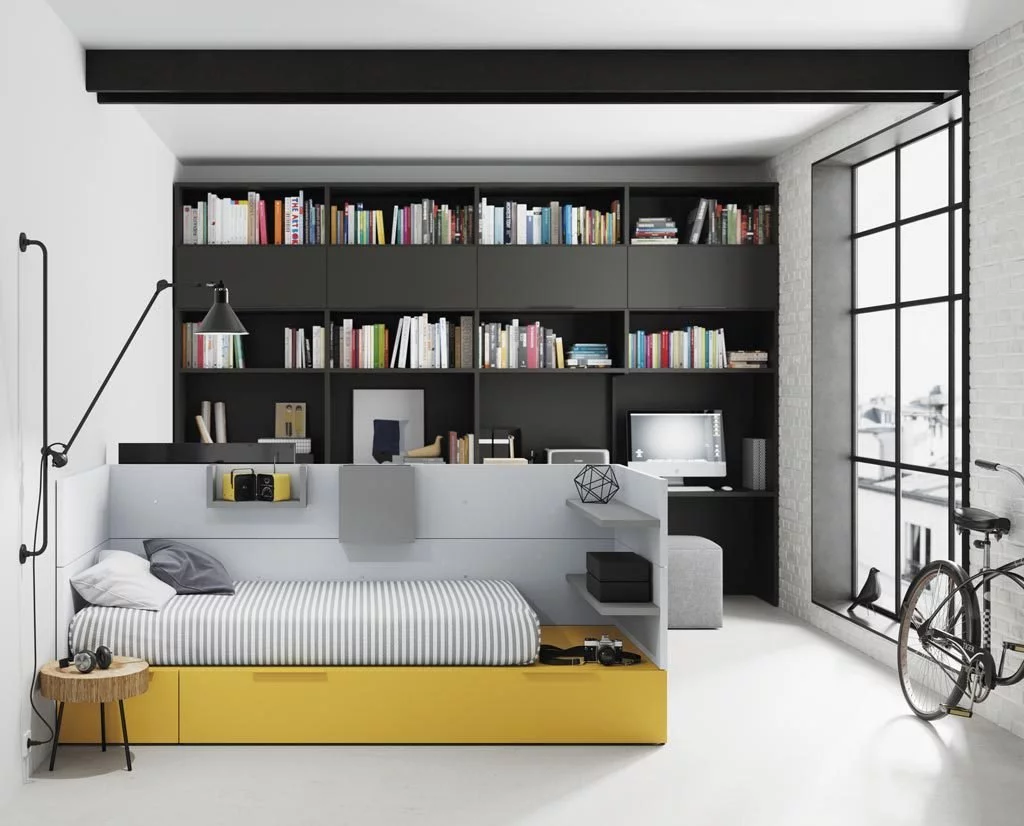 When decorating a junior bedroom, you are creating the ideal environment
Playing with colours can be the decorative touch that a junior bedroom needs
You may find more comfort in one of our upholstered headboards. 
JJP's junior furniture can be personalised and decorated so it can easily fit and suit the rest of the room.
The restless kids need a space to play, the creative kids need a space to let their imagination flourish, the calm kids need soft colours, the twin siblings need to share a bedroom comfortably…
The white-coloured junior furniture will create a greater sense of space
The colour white in junior furniture will make the room feel bigger and will compliment different colour combinations.
If the furniture is white, take a risk with walls that are full of life with paintings, pictures, canvases, prints… everything is possible, just let your imagination flourish.
It can be difficult to choose the right colour of furniture for a junior room. Many times we ask ourselves, "what colours work better?" It seems like a difficult task, but it really isn't when you choose JJP's junior furniture in white.
In this NEST youth bedroom you can see all the information and details much better.
You can create the colour combination of your choice for your furniture
Colours can show a part of our personality, that's why it's so important to choose correctly.
Colour combinations in JJP's furniture are endless, so here are some tips:
Cold colours like Blue create a relaxing environment
Earthy colours like Brown or Beige allows you to connect with nature
Warm colours like Orange create a happy and positive environment
Neutral colours like Grey create a more comfortable and calm environment

Smooth colours from our Infinity02 and NOLIMITS+ collections
 With this colour palette you will be able to create an endless amount of colour combinations in our Infinity 02 catalogue. Remember that the colour white can be used with any colour!
Junior bedrooms with a bunk-bed is always a fun option
A great new feature in this catalogue is the Cabaña bunk-bed, which has a design that ignites the excitement and imagination of any kid, allowing them to create great adventures and endless stories.
Another one of our new features is the Fort bunk-bed, that has a simple structured design that creates a robust appearance and allows you to make the most out of the space with two beds in one.
This bunk-bed needs a ladder to access the top bed. You can choose from a variety of different styles. Some of them have also been designed to serve as a storage space, similar to a shelving unit or drawers.
To ensure complete security while sleeping, all bunk-beds have a top structure that serves as a protective feature.
Junior furniture with a desktop, there are so many designs to choose from
It may sound simple, but the table and chair in your kid's room is vital to ensure a comfortable space where they can study, draw, do arts and crafts…
Here you can find the furniture you need! The newest addition is the pull-out table, which comes with a base on wheels. When closed, it blends perfectly into the headboard of the bed and when opened, it turns into an extremely practical study desk.
For a more minimalistic design, our wall-hung tables is another option from our Infinity 02 catalogue.
With many different designs of tables, you will be able to find one that suits you.
The Tech and Cubis tables – create a more functional and versatile study area
The Cubis Table is made completely out of wood and comes in many different colours and sizes to suit any space.
Another new feature for your study area is the Tech table. It has a metal structure that comes with accessories so you can fit your tablet and backpack.
Different design options for add-on tables to help you create a great functional study space…
We present to you FLAT, a small revolution for restless minds
The FLAT system resembles a puzzle, where every piece fits perfectly. Every single piece is hung on a grid-like system on your wall. This gives you freedom to be creative.
We have a headboard that can be used as part of the FLAT system. It's very original and different.
A desk with only 15cm of depth has been created to fit into any narrow space.
If you have tonnes of ideas in your head and not a lot of space, FLAT IS THE SOLUTION!
With the FLAT system you're going to have a very original and personalised room
Junior bedrooms with two beds, we offer you different solutions
With the Nest collection, you've got an incredible amount of possibilities for a junior bedroom for two, where you'll be able to decorate and personalise to match style and personality.
You can choose to have the beds parallel or perpendicular, depending on the space of the bedroom.
Furniture that adapts to the ages of your kids
The Grow bed, that adapts to the different ages of children, is the perfect solution when the junior bedroom is being shared by siblings of different ages.
You will be able to interact with your junior bedroom, storing objects in unpredictable spaces