Bunk-beds, you can find an up-to-date design within a great variety
Bunk-beds are always a great resource when looking to create a multi-functional bedroom where children can study, play, sleep, share…
If the space in a room is limited and you need to fit two bedsit it, a bunk-bed may be the best option for you.
We've got new features in our bunk-beds that are sure to surprise you!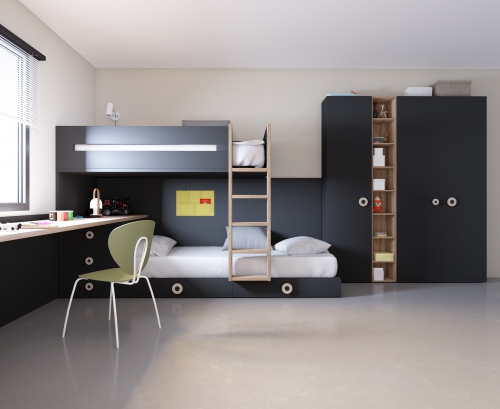 Composition 19 including FLY bunk-bed with drawers, wardrobe with open shelving and hanging desk in Vulcano and Maya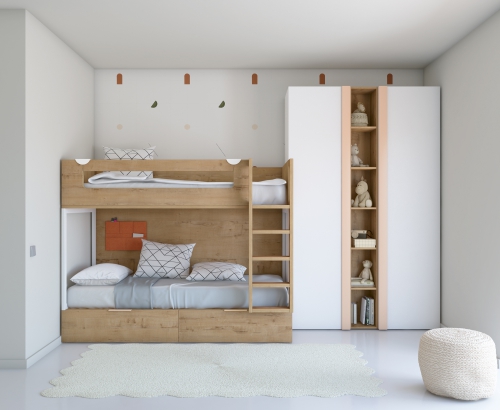 Composition 18 including ALFA bunk-bed with drawers and wardrobe with open shelving in Forest, Blanco and Nude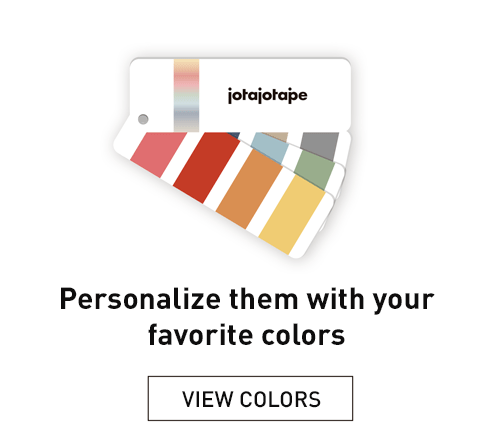 Train bunk-beds allow you to create many different combinations of style
Our train bunk-beds are those which aren't placed symmetrically on top of each other, but they overlap each other, making the most out of the space in a long room.
The biggest advantage of a train bunk-bed is that you can incorporate an extra unit of storage into it, that can be drawers, with doors, shelves or hanging bars.
One of the most demanding collections in the INFINITY 02 catalogue is the train bunk-beds, where you will find different designs.
Train bunk-beds where you have different options of what you want the base to consist of: two drawers, a pull-out bed or three drawers.

Bunk-beds with a closed protective system, open protective system or an extractable protective system to ensure the security of the children at all times.

Bunk-beds with an empty base, so you can add an extra mattress or have a space for games.

Train bunk-beds with a slide included, so the children can have an original bed whilst having fun.
We let you create the combination of furniture that best adapts to the space in your home, in JJP we are specialists in making sure that you are able to have the furniture that you truly need and are satisfied with.
Junior bunk-beds so that friends can have a sleep-over
When your children reach a certain age, they enjoy having sleep-overs with friends. With JJP's bunk-beds you can enjoy sleepovers in a cool and up-to-date style!
We offer different options for the bottom part of the bunk-bed; so if you choose a pull-out bed then you have three beds altogether.
There are many bunk-bed options in the INFINITY 02 catalogue, so you can find the one that suits you best.
The Alfa bunk-bed is a model with straight lines and a very light and simple design with metal sides. It's ideal for when the children grow up as there's many different accessories you can attach onto it.
The train bunk-bed is the only model that needs a unit at one of the sides, whether that's drawers with doors or shelves. The beds overlap each other.
The Fort bunk-bed is a model with a very robust design and simple lines. It has a protective system on the top with a ladder to get to the top bunk.
The Tent bunk-bed is a model with a design to rest comfortably but also to play as it has an upholstered cover on top of the bed that can be the start of many adventures.
In JJP we are offering constant innovations and improvements in junior and kids rooms. Long gone are the days of traditional bunk-beds, with our furniture you'll have a perfect balance between comfort and modern design with every piece of furniture.
Kids bunk-beds – Do you want to sleep in a cabin?
When kids are kids they need fun, a safe place to play, a space in their house to share with friends and that is why we've created this cabin bunk-bed, which sparks the adventure and imagination of every child.
The Tent bunk-bed is characterised for having a very robust structure. It has a railing that acts as a protective system and has a canopy that is attached with velcro and is very simple to connect.
To access the top bunk you need a ladder or stairs and that is why we've created a variety of options. With a shelving unit or drawers, bunk-beds have never been more versatile and practical! Both models end with a railing system so they have maximum security when going up.
The kids bunk-beds are thought and designed with complete security. The comfort of the furniture is also a priority for us so they can have a dreamy rest.
Bunk-beds for children that you can add a touch of whatever colour you like
We're unique in this market because, with us, you'll be able to have that explosion of colour on the furniture you've always wanted.
You can choose your preferred colour to personalise the children's bunk-bed to their liking.
Making a fun colour combinations in the drawers: having the safety rails a different colour than the bed; having the ladder one colour; matching the colour of the handles with the drawers…. anything you can imagine, we can make it happen.
The colours of the furniture can represent the personality of the child
If they're more calm, a combination of pastel colours will work better for them, like white, dusky shades and pinks.

If they're more active, a combination of fresh colours will suit them, like bright colours, turquoise and orange.
Bunk-beds with a slide to start the day off with a fun adventure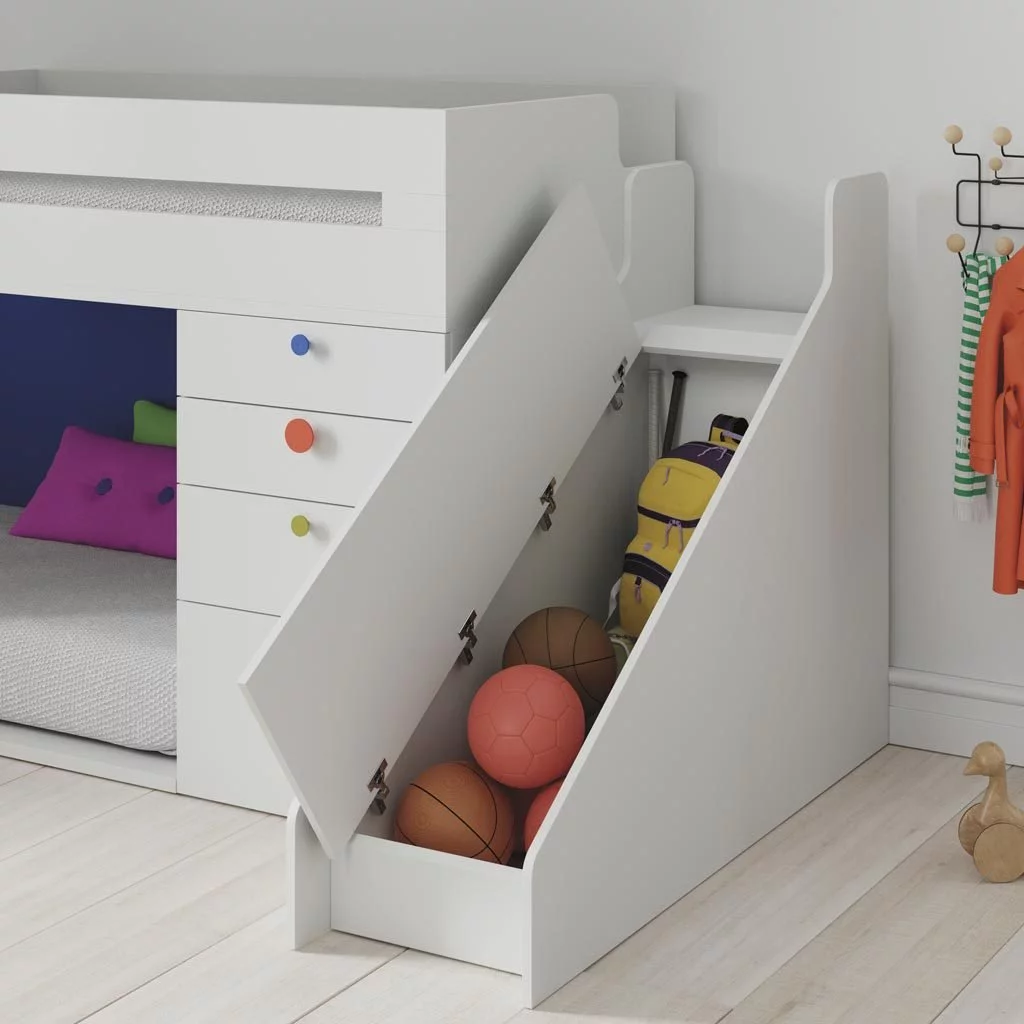 In the bunker slide that comes with the bunk-bed, you will be able to store games, toys and much more!
The slide bunk-bed that you can find in our INFINITY 02 catalogue will be the fun experience your children could wake up to every morning.
The slide is a storage bunker where they'll be able to store lots of things. From toys to clothes- keeping their room as tidy and practical as possible.
Starting your day by going down a slide is always a good way to start
These multi-functional pieces of furniture are very practical. The slide bunk-bed has two very comfortable beds where children can sleep peacefully. You can add different units to store clothes, it has a ladder to access the top bunk and a slide/storage bunker to get down. This is, without a doubt, a perfectly functional and fun piece of furniture.
With JJP everything is colour, fun, personality, imagination, freedom…